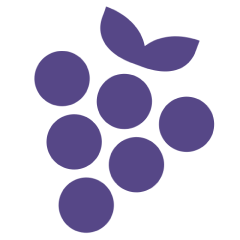 Managing groceries that we own has always been a problem and we aim to solve it. Grape is an automated grocery inventory, which scans shopping receipts, tracks expiry dates of products purchased and notifies users when items are approaching expiry. We utilise machine and deep learning to create a seamless user experience. By providing users with an aggregation of their grocery shopping data, we empower them to decrease household food waste. Our value proposition to the customer is extremely unique – we want to provide people with tools which will help them save money while saving our planet, instead of encouraging them to spend & consume more.
My Role(s):
– Co-founder and leading the service and UX design through surveys and interviews and analysis for insights to adapt for MVP
– UI design and prototyping in Figma 
– Usability testing in alpha and beta user tests
Tools & Methods Used:
– Brainstorming, ideation, mind-mapping
– Figma and Zeplin for UI design and prototyping
– Flutter for development
– Qualitative analysis through affinity mapping of user research
The idea for this application began when the team was exploring solutions to mitigate issues arising due to COVID through the HackYeah in April 2020. From some preliminary interviews around how people do their grocery shopping with individuals in Poland, we discovered that household waste is still a widespread problemthe team wanted to set about to deep dive into tackling household food waste.
User Research:
Our initial user research was to try and learn more about how aware individuals are about their food waste and what were their concerns when it come to . We got over 300 responses that were both quantitatively and qualitatively analysed to find insights. This helped us understand our target users, develop our users' journeys and create personas to better focus the application's features and user experience. From this we also had potential users signed up to test our MVP.
The second part of the user research focused on conducting in-depth interviews in a semi-structured manner. The survey results helped us identify our potential users, so we found individuals to interview that fit these groups. These allowed us to deep dive and ask users about their daily routine when it comes to grocery shopping and meal planning. Through this and keeping in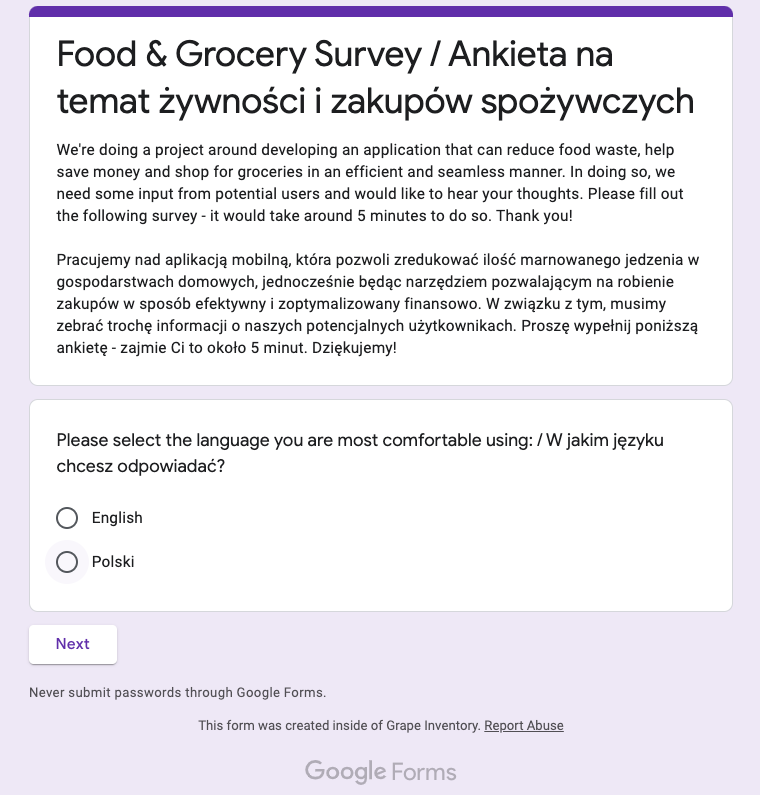 Google Form Survey sent out to Zero Waste and Budget planning Facebook groups in Poland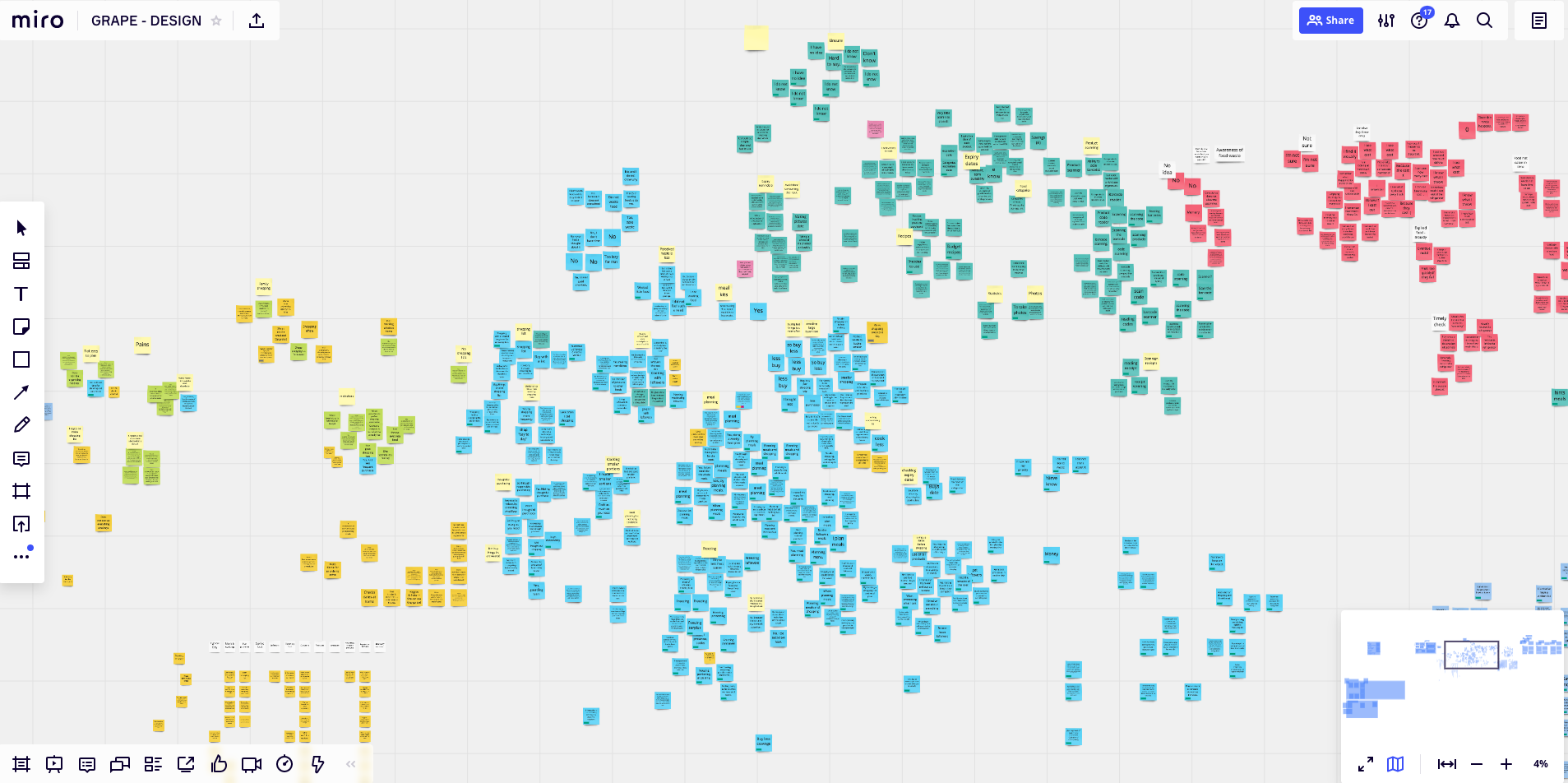 Affinity mapping qualitative research
Main themes from user research
Why food ends up being wasted by users
Awareness of food waste amongst users
How food waste is currently prevented
From these insights, we were able to validate some of our hypotheses to then define our own MVP for the application as well as what features would be crucial to deliver the unique value propostion for users that can ensure that they sign up for the service. As this application is still in devleopment stages, the details are not open for public yet but the main aspects of the application at this stage include:
Scanning of grocery receipts to create a digital inventory
Expiry date tracking of items in inventory
Notifications that can help users know what items are close to expiry so they can use them up
Analytics on how much money is being spent on what item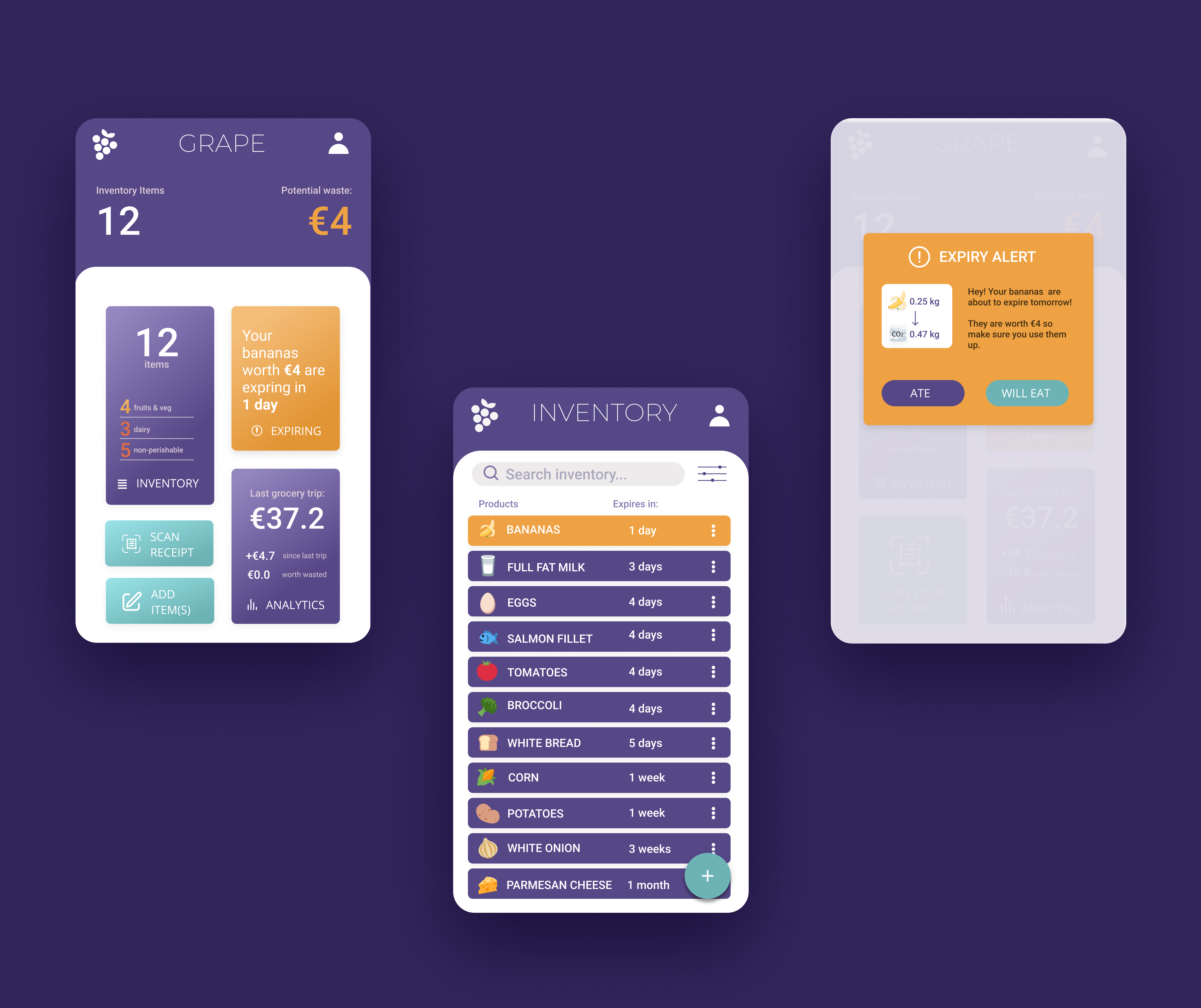 UI Design Samples of the MVP
The Outcome (so far):
Our team has finalised the MVP of the Android version of the application as part of the EIT Digital Venture Program. We're now getting ready to test the application for a public launch in Poland this year. More details about the process will be available once the application has launched to the public.
EIT Digital Alumni Startup Contest Pitch