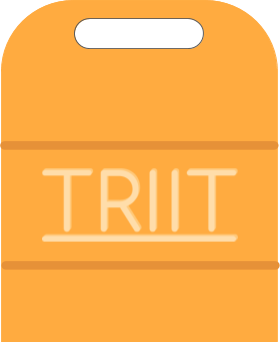 TRIIT was the product and service concept we created while working together with the Finnish Postal service for the Aalto University Design Project Course. It allowed users to quickly swipe through and select items they are interested in and get them delivered in a TRIIT returnable bag to their closest TRIIT rack all done through the app interface that accompanied this.
The Challenge: 
We were tasked with coming up with new service ideas for the Posti along with implementable business models working in a team of students from multidisciplinary backgrounds with mentoring from professional designers.
My Role(s):
– Project managing and ensuring goals are met in each sprint
– Leading communication between our mentors at Vincit and the team
– Facilitating ideation and synthesis workshops
– Creating storyboards for some concepts
– Prototyping UI Interactions for App
– Creating final physical prototype for the TRIIT bag
Tools & Methods Used:
– User Research: Semi-structured interviews, online survey, observations, rapid ethnographic research, desk research 
– Synthesis: Affinity mapping, prioritisation matrix, storyboards, user journeys
– Ideation: Brain-writing 3-6-5, "I wish…", Rubber Ducking
– Prototyping: UI Design (Sketch, InVision), Product design (Cardboard prototyping)
– Validation: Feedback Interviews, prototype testing   
User Research:
We began our work by creating discussion and interview guides to go out and just talk to people who use the post and figure out what they use it for, what experiences have they had with it. We also went out to observe some post offices to see how often what services were being used and gain some insight from the staff as well.
One of the biggest insights from this project was that it was very difficult to separate user biases from our qualitative findings. With a company that delivers packages to people, everyone tends to remember that one horrible experience they have had with the service.
It was crucial for us to use this quantitative data in a way as to categorise it so that it brought out the other reliable and valid observations – those being what services are underused, or not known of or what problems are there that users face when third parties(like e-commerce) are involved that Posti could add value to.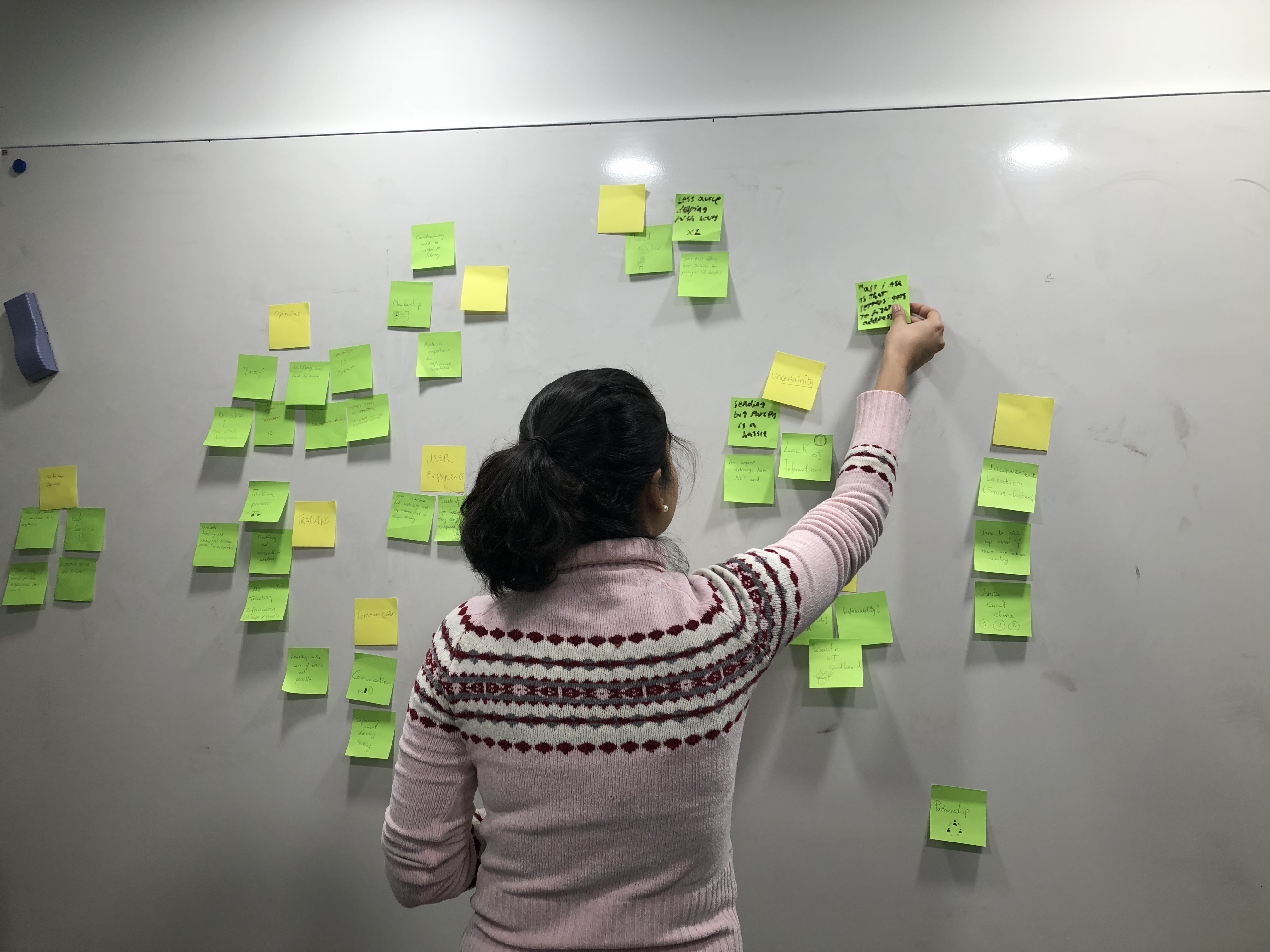 Thematic Grouping:
To better understand where we could find ways to improve or create new business opportunities, we brought together our data from all the interviews, surveys and observations using affinity mapping. We found that much of the main problems customers had could be grouped into four large problem themes with recurring issues and gap in serving user needs:
Delivery Process (Tracking & Endpoint)

The relationship between customers and Posti

Lack of information for users specific needs

Lack of partnerships with local companies
Key Insights:
– People will always have a bias regarding a bad delivery experience.
– Even among people we interviewed, the use of e-commerce was not as high as it could be. It would be important to focus on how it could be boosted by ideating around that need gap.
– People had a generally negative impression of Posti.
– Very few were even aware of many of the digital features and options available through Posti's OmaPosti application.
– Small businesses using Posti feel like there aren't many tailored options for them.
Ideation:
Using these groupings, we began to ideate. Using brain-writing and "I wish.." methods, we rapidly generated 10 new concepts. These were:
Interactive chatbot to help customers figure out pricing 
Smarter smart box/locker where the parcel itself is the locker. 
Route optimization for drivers delivering mail/parcels rather than drivers independently choosing routes.
Crowdsourcing of delivery where parcel delivery is possible whenever.
Eco-reuse, where customers can be given easy packaging and recycling options.
Sustainability for businesses where a "last mile" delivery option is available to home and bulk deliveries.
Subscriptions either monthly or weekly, for delivery of products that people or businesses need to send regularly.
A service for startups and small businesses that can facilitate an easy return service for businesses.
Autonomous shops where customers can be taken through a step by step process, completely unmanned to send their mail or parcels to other services. 
E-commerce stores where Posti can handle the return of items in a more efficient manner such that if a customer would like to try an item before buying it, such a store could have those products on hand to try.
Storyboarding, Concept Design, Prototyping & Experimentation:
We also had to first work on a few ideas to further strip them down to the basic use case and visualise them in a way that can be tested with users. Taking these visualised ideas, we then had to test with users to validate and then use these insights to generate a priority matrix to make our final selections.
We worked on the five ideas further. These were the smart modular lockers, chatbot, bundles for small businesses, e-commerce store and the last-mile crowdsourced delivery. For each, we visualised and developed the concept in different ways. 
For the chatbot, we tried to show two examples of how a bot would interact with a customer. For the modular locker, we created a cardboard prototype of a box that could expand its height, so we could show users what it could potentially look like.  For the last mile crowdsourced delivery, we create a mobile prototype to show users the concept of the idea and how it works. For the small businesses, we focused our attention into self-employed individuals who send a lot of parcels/mail by themselves during the year. To test this idea we contacted two Instagram artist to ask them some questions related to this topic and how Posti could help them. Finally, for e-commerce, we created a storyline related to online shopping, that we used to interview potential users to test whether they would be interested in this concept.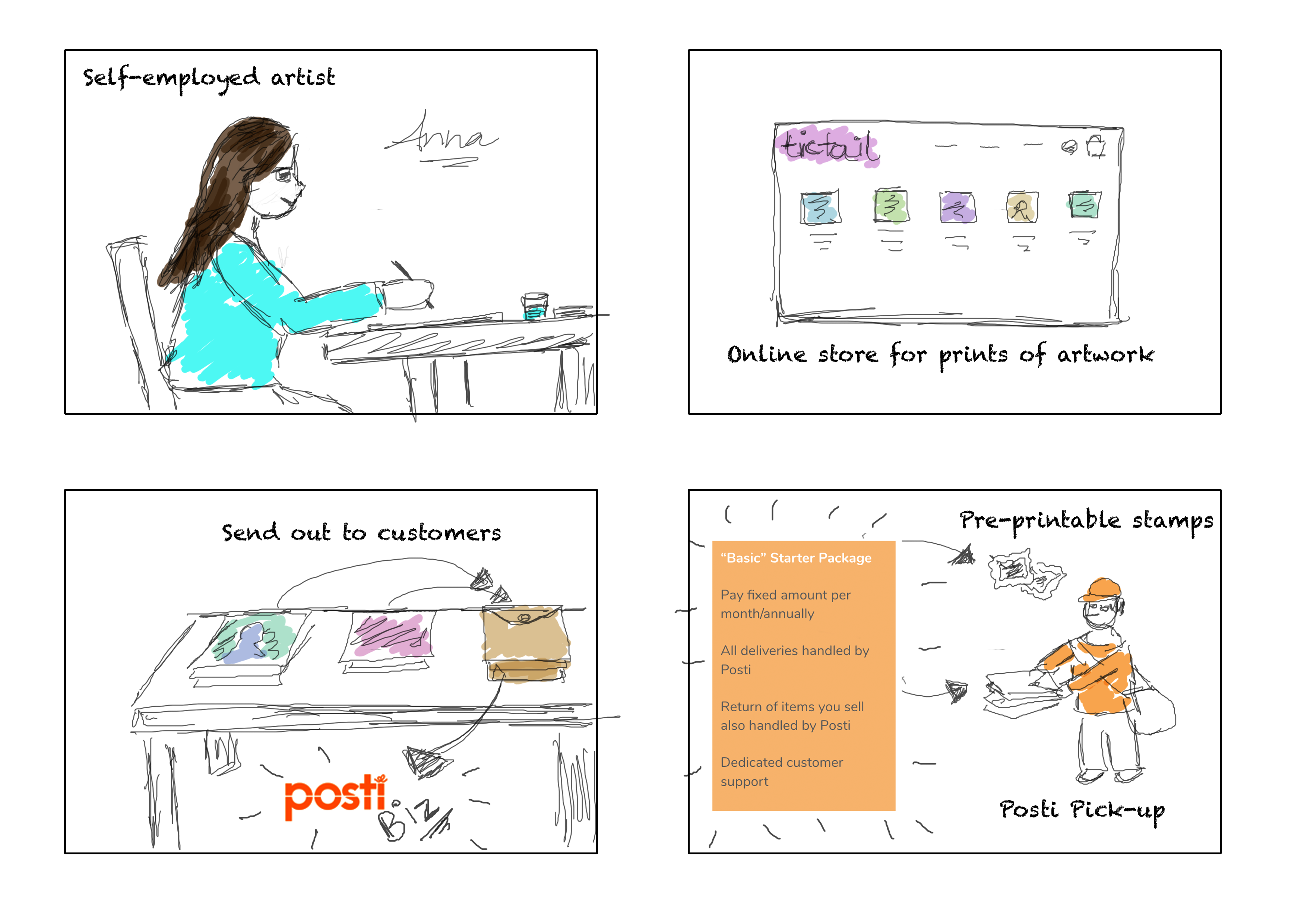 Storyboard for subscriptions concept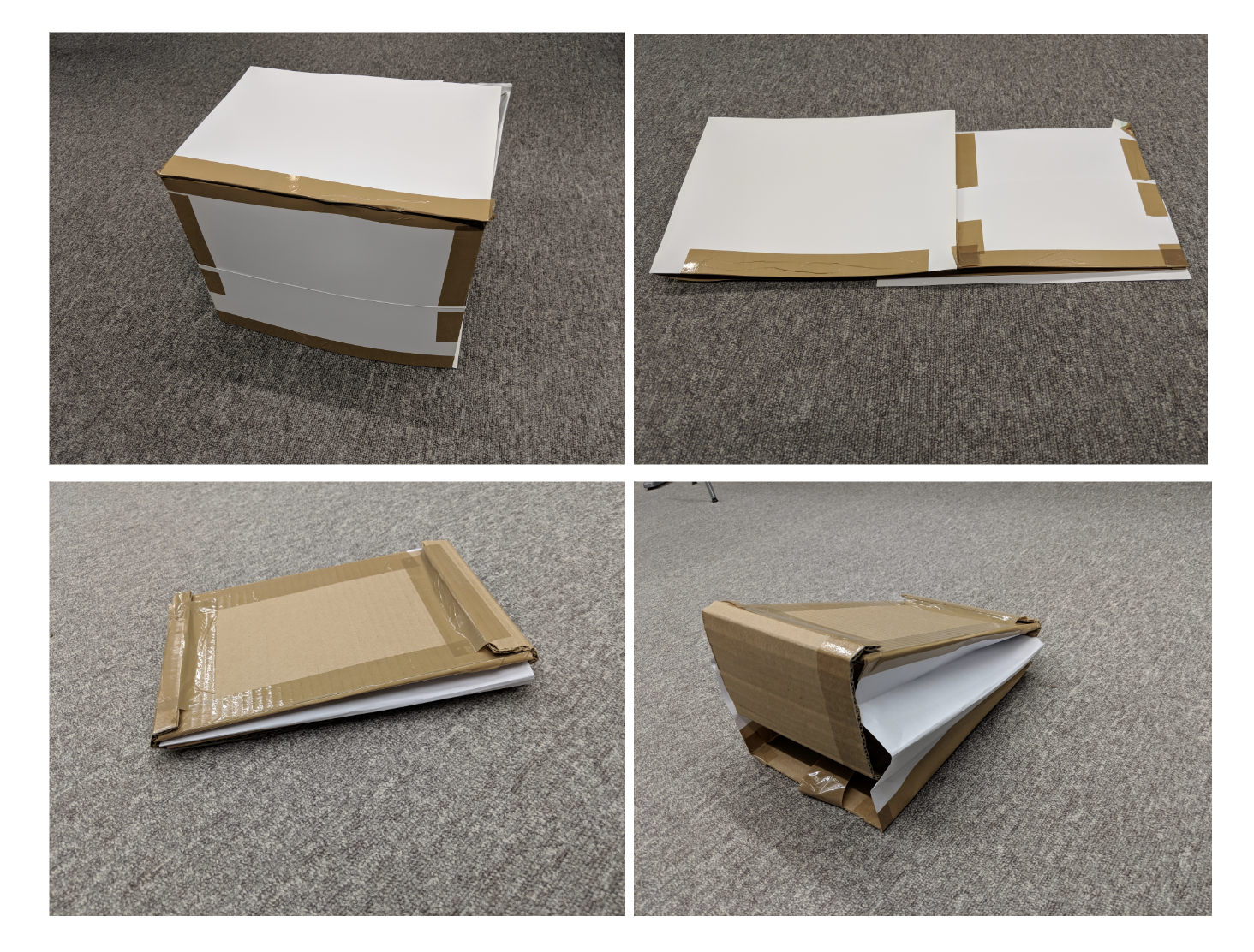 Early prototype of the modular parcel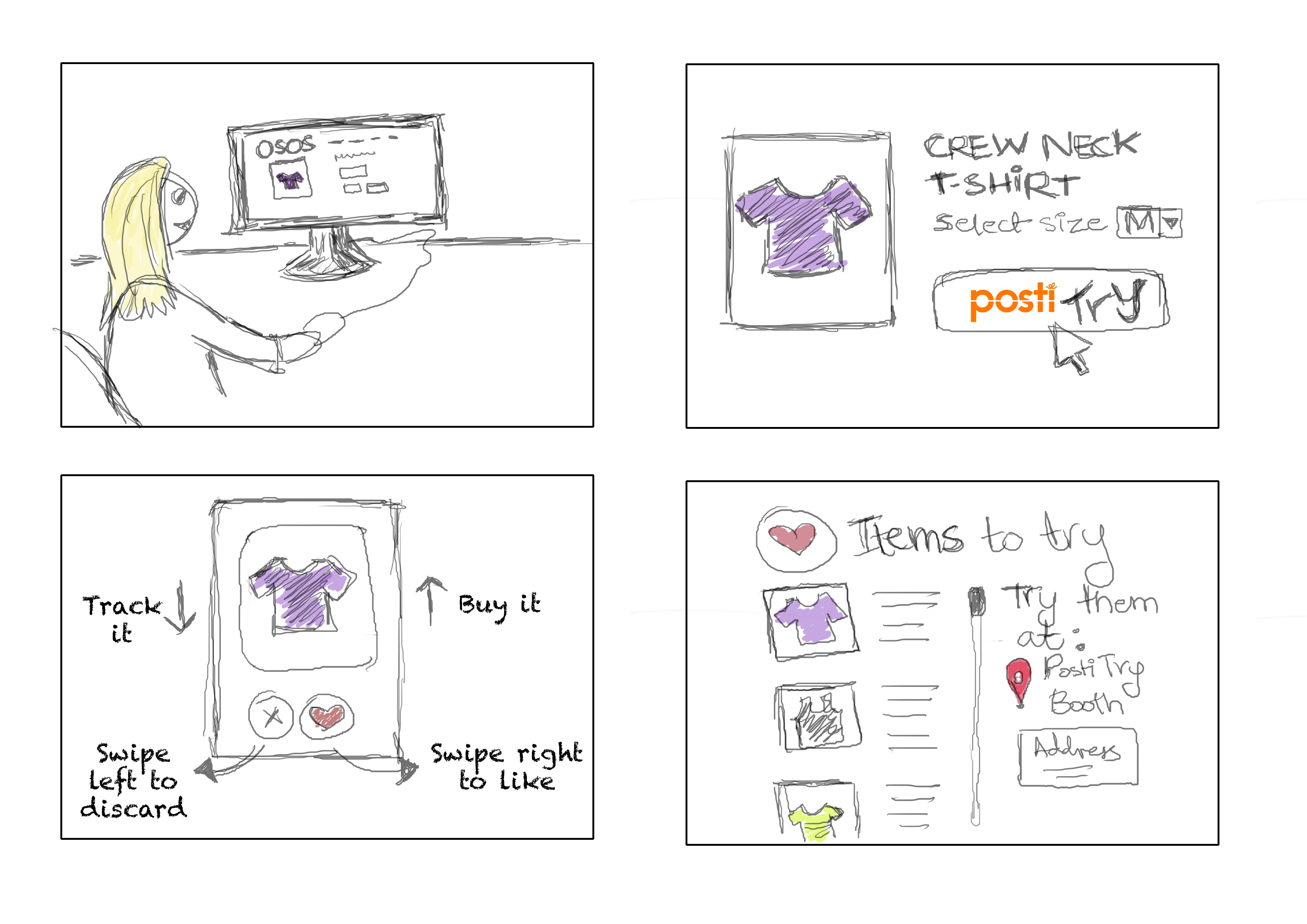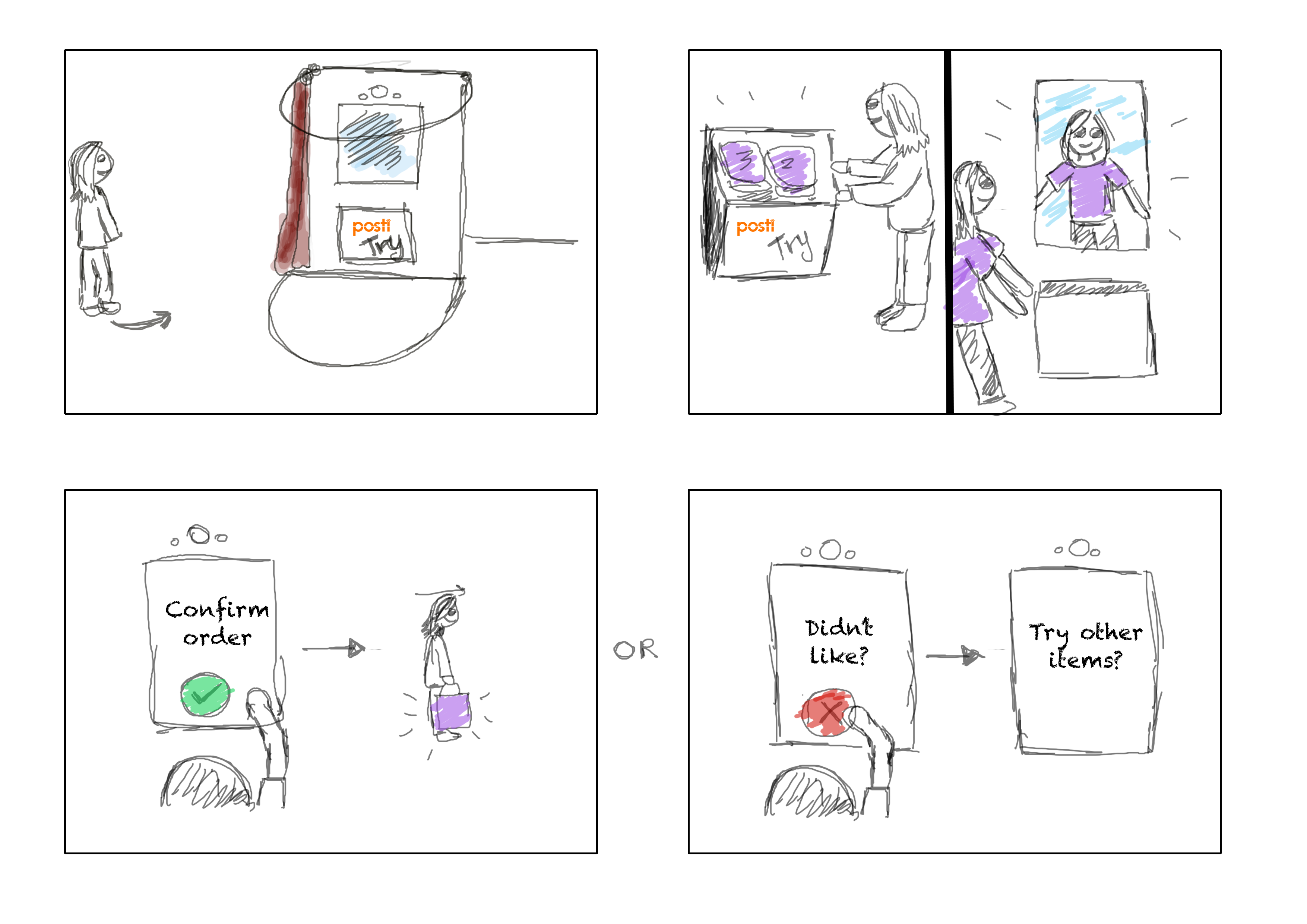 Initial Storyboard for E-commerce Store idea
Prioritising:
After developing some selected concepts further and experimenting with them, we needed to narrow down and choose only three to go ahead with. Together with our mentors at Vincit we used a prioritisation matrix to select the final three we would stick with. We voted on criteria like how an idea could scale up in big way, or small way, how testable it was, how important it was for the users of Posti versus for Posti as our customer as well as the environmental impact each idea had.

Final Idea: TRIIT
We went ahead and developed value propositions and business models for the three selected ideas: the e-commerce store, the business bundles( subscriptions) and the post-mile delivery ( sustainable last-mile bike delivery options). In the end, however we were supposed to focus on one idea that we needed to develop and alpha and beta prototype for and test as well as develop marketing content for. We chose this final idea by bringing back an older idea of the modular parcel and combining our idea for offering businesses some incentives to work with Posti as well as our e-commerce store concept without the store. In our validtion interviews earlier with people, an interesting insight we were seeing was how people liked the idea of having a modular box be available even when we did not bring it up into the conversations ourselves.
The combination of the ideas means that the final product focuses on the e-commerce parcels and the delivery process. To make this possible, the team focused on creating a modular smart box/bag to handle returns in a more efficient way and at the same time create a platform that reduces the possibilities of returning the products that the users buy online. Our team decided to keep this idea because it was the one that brought the biggest challenge and lets each member improve their knowledge in the three areas of product design, user experience design and business design. We then took this idea out to validate with a small e-commerce website owner as well as users who have hesitate to buy things online very often.
Who is this for:
People who tend not to shop online because they are not sure about the right size or material of items.

People who already shop online but end up returning items a lot.

People that do not trust online shopping and if they are going to get their money back.  
What does Posti get out of it:
New users and more data from them

New partnerships  and new ways to get bigger in the e-commerce sphere 
Revenue for Posti:
The boxes/bags would be branded with the company/store logos which they would pay for

Posti would get a percentage commission for each transaction made through the platform.

Delivery fees
User Journey with Beta Prototypes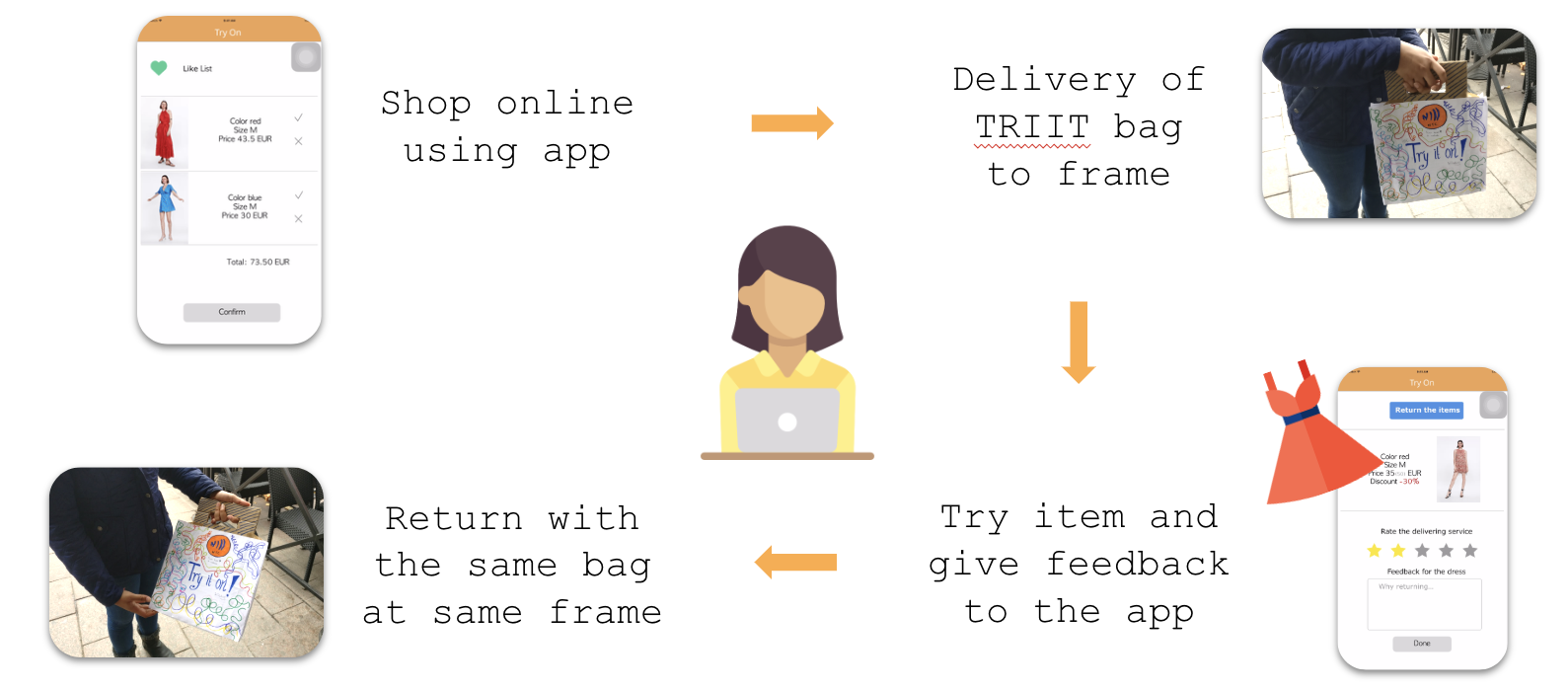 The Outcome:
Overall the TRIIT concept was appreciated by all the users we validated with. The main concerns around it were about how expensive it would be to set up and produce such a smart bag. We did cost estimation for each bag and the racks based on market estimation but our vision was that the business potential this idea had would make up for the costs of the product since it could encourage circularity in using the bags themselves as well as give brands a chance to stand out through advertising on the bag design. The prototype for the app can be accessed here.
Marketing Poster for TRIIT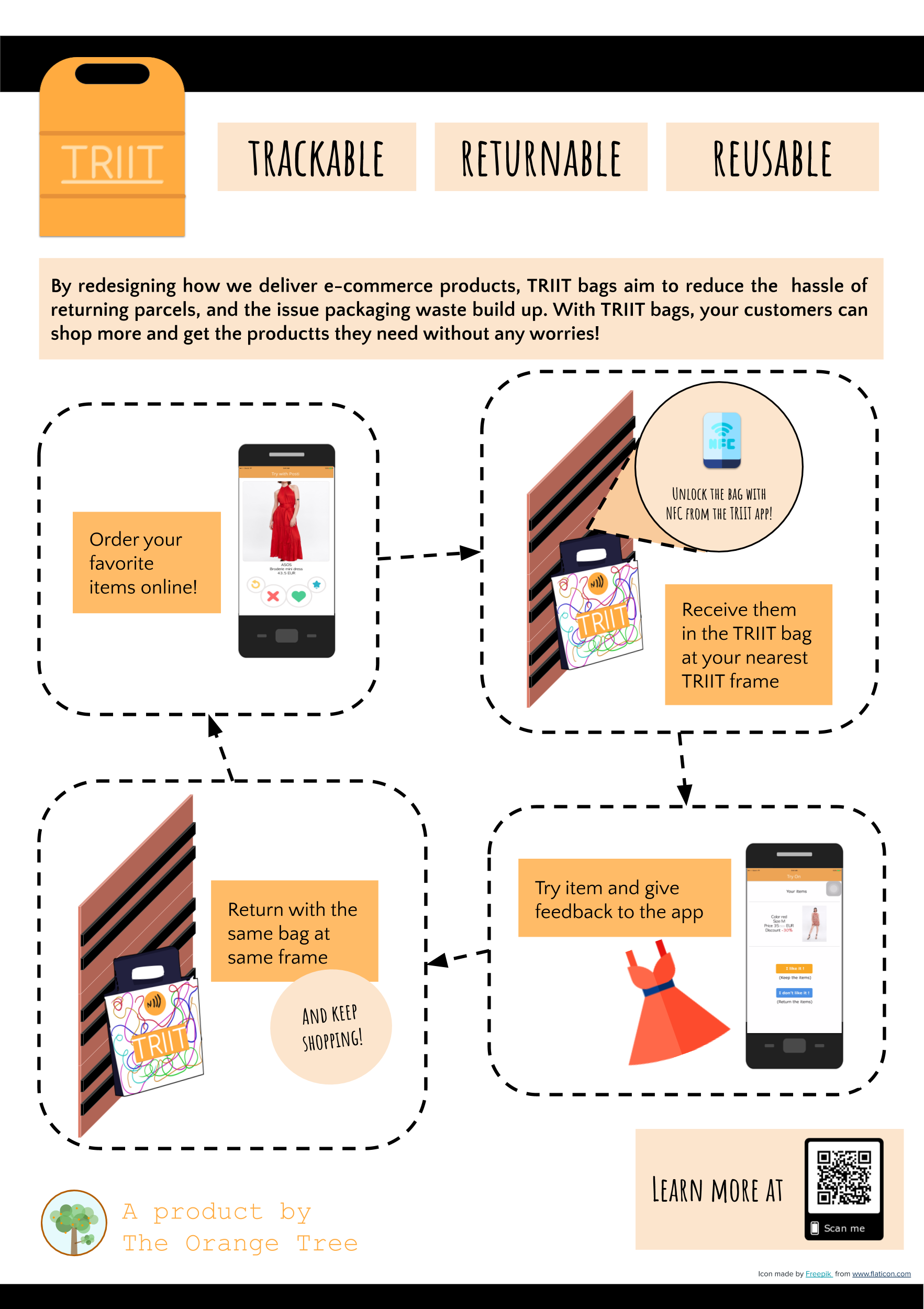 Marketing Poster for TRIIT